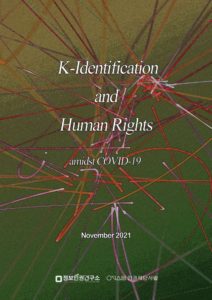 [ENGLISH / PDF] K-Identification and Human Rights amidst COVID-19
The crisis of COVID-19 has continued for more than a year. Although it is clear that COVID-19 is a crisis to the right of health in society as a whole, human rights activists have paid attention to the reality where more human rights violations occurred to those vulnerable to the abuse of human rights.
Korea's so-called "K-Disease Control" policy is characterized by its sophisticated tracing based on digital identification. Sometimes, group-specific disease control policies have been implemented. However, these advanced identification, tracing, and group differentiation may threaten the human rights of those vulnerable to social discrimination, such as sexual minorities, migrants, and the homeless. Moreover, the workers and people's rights to protest continue to be suppressed in the face of this crisis of survival. Rally participants are punished and organizers are arrested. The Infectious Disease Control and Prevention Act generally treats confirmed patients and their contacts as criminals.
This issue report contains the contents of the reality experienced by Korean activists who have been contemplating COVID-19 and human rights issues in the fields of sexual minorities, migrants, health care, homeless people, demonstrations, and the law in a trace-based disease control environment.
This report is sponsored by Human Rights Foundation SARAM. We would like to share awareness of issues with human rights activists at home and abroad and initiate social dialogues for disease control policies and social solidarity that guarantees human rights even in the midst of a global pandemic.
For more information, please contact :
idr.sec@gmail.com
Contents
Introduction
Exposure and Discrimination of Sexual Minorities
Discrimination and Exclusion of Foreigners and Migrants
Tracing and Group Management Issues in Disease Control Policies
Discrimination and Exclusion of the Homeless
Restrictions on Freedom of Assembly and Demonstration, and Tracing Participants
Digital Tracing that Promotes Overcriminalization